Mory Gharib, Director of GALCIT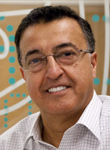 Mory Gharib is the Hans W. Liepmann Professor of Aeronautics and Bioinspired Engineering specializing in Hydro and aerodynamics, biological flows, bio-inspired systems, and advanced flow visualization techniques.
Professor Gharib received his B.S. degree in mechanical engineering from Tehran University, his M.S. in mechanical and aerospace engineering from Syracuse University, and his Ph.D. in aeronautics from Caltech. Dr. Gharib is a Charter Fellow of the National Academy of Inventors (NAI), Fellow of the American Academy of Arts and Sciences (AAA&S), Fellow of the American Association for the Advancement of Science (AAAS), and a Fellow of the National Academy of Engineering (NAE).
Professor Gharib's current research interests in conventional fluid dynamics and aeronautics include Vortex dynamics, active and passive flow control, nano/micro fluid dynamics, bio-Inspired wind and hydro energy harvesting as well as advanced flow- Imaging diagnostics.
His Bio-mechanics and medical engineering research activities can be categorized in two areas: Fluid dynamics of physiological machines such as human circulatory system, and aquatic breathing/ propulsion; development of medical devices such as heart valves, cardiovascular health monitoring and drug delivery systems.
More information on Dr. Gharib may be found on his website.
Past Directors of GALCIT
---
Theodore von Kármán, Professor of Aeronautics, 1930–1949. First Director of GALCIT, 1930–1949.
Clark Blanchard Millikan, Professor of Aeronautics, 1929–1966. Second Director of GALCIT, 1949–1966.
Hans Wolfgang Liepmann, Theodore von Kármán Professor of Aeronautics, 1945–1985, Emeritus. Third Director of GALCIT, 1972–1985.
Anatol Roshko, Theodore von Kármán Professor of Aeronautics, 1955–1994, Emeritus. Acting Director, Graduate Aeronautical Laboratories, 1985–87.
Hans G. Hornung, C. L. "Kelly" Johnson Professor of Aeronautics, 1987–2005, Emeritus. Fourth Director of GALCIT, 1987–2003.
Ares J. Rosakis, Theodore von Kármán Professor of Aeronautics and Mechanical Engineering, 1982–present. Fifth Director of GALCIT, 2005–2009.
Guruswami Ravichandran, John E. Goode, Jr., Professor of Aerospace and Professor of Mechanical Engineering. Sixth Director of GALCIT, 2009–2015.