Simulating Schlieren and Shadowgraph Images from LES Data
Using geometrical optics ray-tracing schlieren and shadowgraph images were derived from large-eddy simulation (LES) data of a jet in supersonic crossflow and compared with experimental data. Including the components of the optical system that forms the image in the simulation is found to be important. The technique produced images that replicate flow physics more faithfully than straight-line path integration and other techniques, and more efficiently than physical-optics techniques. Applications of these simulated images were demonstrated in supersonic flows.
Elizabeth Luthman, Niccolo Cymbalist, Daniel LangGraham Candler, and Paul Dimotakis. Simulating schlieren and shadowgraph images from LES data. Experiments in Fluids, 60 (8). Art. No. 134. ISSN 0723-4864. (2019) http://resolver.caltech.edu/CaltechAUTHORS:20190726-104616679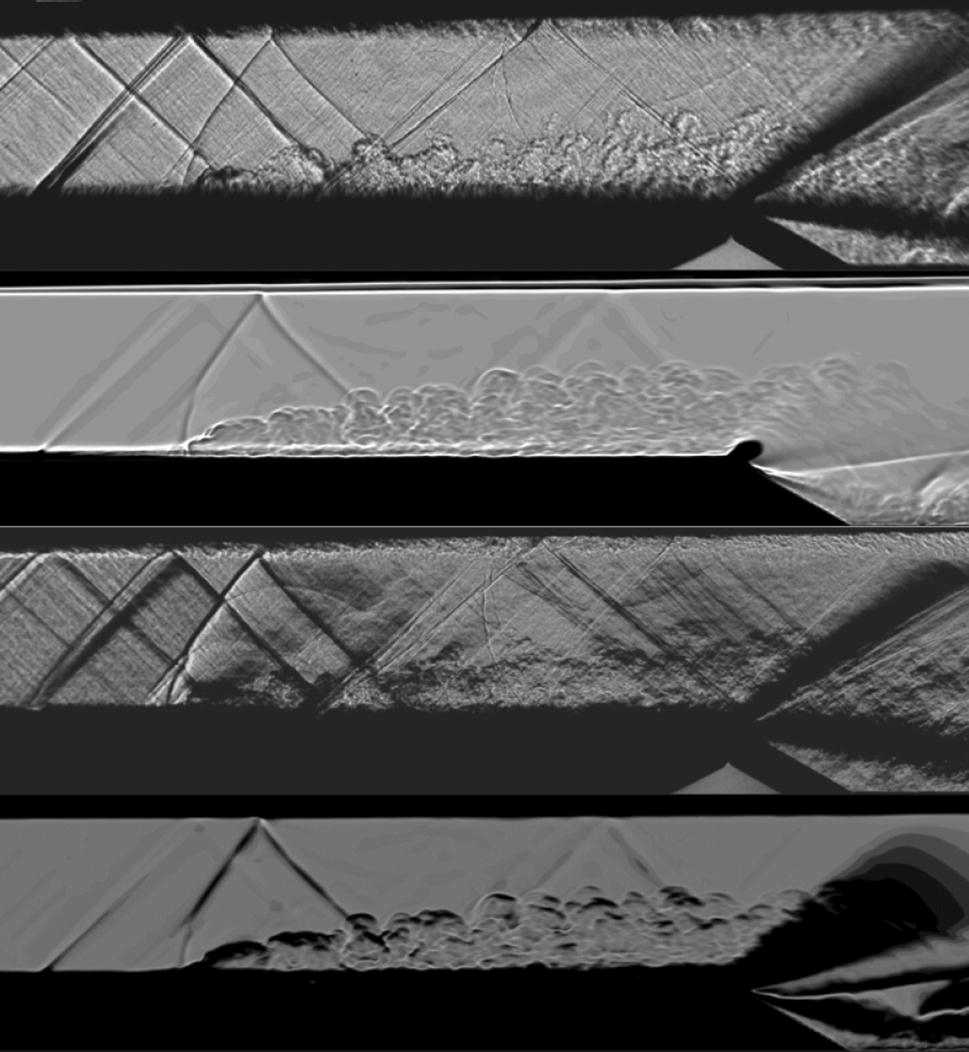 The images above compare two pairs shadowgraph images (experiment on top and simulation below) of supersonic flow with a freestream Mach number of M=1.5 with transverse-jet injection. The flow of interest in the test-section is isolated from downstream disturbances by an expansion ramp on the right.
Time-correlated pairs of shadowgraph images taken from the LES using this technique were used in conjunction with an image-correlation velocimetry technique to compare the estimated convection velocity field in the LES to that of experiments of the same flow. Agreement between the two is good with a maximum variance of 5% by some metrics.
The technique can aid in the validation of LES results, allowing quantitative comparison between experiment and simulation, and extract information unattainable by experiment alone. Comparisons of simulated and experimental jet penetration into the supersonic freestream were also made showing good agreement.
Research Area: Physics of Fluids | Faculty: Dimotakis